Unimed Spo2 Sensor: Precision Monitoring for Healthcare Excellence
In the healthcare domain, precision and dependability reign supreme, and Unimed stands at the forefront as a trusted industry leader. At Unimed, we take great pride in offering a diverse range of Spo2 sensors  and interface cables that uphold the highest standards of excellence and compatibility. Our Spo2 sensors are meticulously designed to seamlessly integrate with a wide array of patient monitors and pulse oximetry systems, including esteemed brands such as Philips, GE, Ohmeda, Datascope, DETEX, Nihon Kohden, Nellcor, and more. In this comprehensive article, we will explore the realm of Spo2 sensors, their critical importance in the field of healthcare, and how Unimed emerges as your unwavering partner in providing these vital components.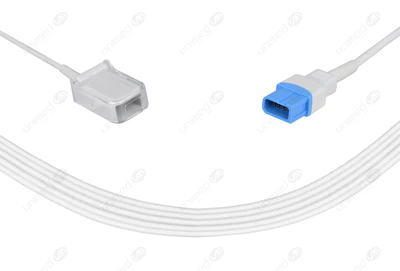 Unimed Spo2 Sensors: The Key to Accurate Spo2 Monitoring
Spo2 sensors, also known as pulse oximeter sensors, play a pivotal role in measuring Spo2 (oxygen saturation) levels in patients. At Unimed, we understand the critical importance of these sensors in delivering precise and reliable healthcare.
Wide Compatibility with Leading Brands
Unimed's Spo2 sensors and interface cables are meticulously designed to be highly compatible with a wide array of patient monitors and pulse oximetry systems. Whether you're using a Philips, GE, Ohmeda, or any other leading brand, Unimed ensures seamless integration for accurate Spo2 monitoring.
Versatility in Sensor Types and Sizes
At Unimed, we recognize that healthcare requires flexibility, and that's why Unimed offers Spo2 sensors in various types and sizes. From fingertip Spo2 sensors to those suitable for adults, children, infants, and newborns, we've got you covered. Our sensors can be comfortably used on fingers, toes, thumbs, hands, or feet, making them versatile for different patient needs.
Enhanced Accuracy with Brighter LED Lights
Unimed Spo2 sensors are equipped with advanced LED lights that accurately measure oxygen levels even in patients with darker skin tones. This ensures that healthcare professionals can rely on our sensors to deliver precise results for a diverse range of patients.
Reliability in Signal Transmission
Our Spo2 sensors are crafted using medical-grade materials and feature double shielding, offering robust anti-interference properties. This results in stable signal transmission, reducing the likelihood of errors during monitoring.
Certified Excellence
Unimed takes quality and safety seriously. All our Spo2 sensors and interface cables are CE and FDA certified, validating their performance and reliability across different markets. When you choose Unimed, you choose peace of mind knowing that you have access to high-quality, certified medical supplies.
Conclusion
In conclusion, Unimed stands out as the brand you can trust for precision Spo2 monitoring. Our Spo2 sensors and interface cables are designed with excellence and compatibility in mind. No matter the brand of your patient monitor or the type of patient you are caring for, Unimed Spo2 sensors offer a reliable solution.
 Unimed is not just a brand; it's your partner in delivering accurate and dependable healthcare. Choose Unimed for Spo2 sensors that meet the highest industry standards and ensure the well-being of your patients. With Unimed, you can be confident that you have made the right choice in Spo2 sensors for your healthcare facility.