Unimed SpO2 Sensors: Accurate and Reliable Oxygen Saturation Monitoring
As a trusted brand in the healthcare industry, Unimed offers high-quality SpO2 sensors that ensure accurate oxygen saturation monitoring. With stringent regulatory compliance and certifications, At Unimed, our SpO2 sensors provide healthcare professionals and facilities with reliable measurements for optimal patient care.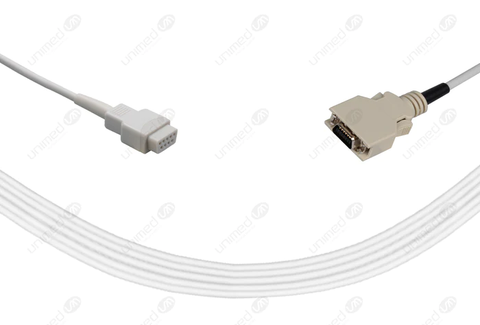 Unimed's SpO2 Interface Cables for Seamless Connectivity
Unimed's SpO2 interface cables are designed to be compatible with a wide range of monitors, including popular brands like Philips, GE, Ohmeda, and Nihon Kohden. Featuring a rectangle 14-pin, SCSI monitor end connector and a DB 9-pin sensor end connector, these cables enable seamless connectivity for efficient oxygen saturation monitoring. The digital sensor technology employed ensures precise readings and reliable data transmission.
Key Features and Specifications for Enhanced Performance
Unimed's SpO2 sensors boast a total cable length of 7ft, providing flexibility in usage. The cables are color-coded in gray for easy identification and organization. With a cable diameter of 4.0mm and made from durable TPU material, Unimed's sensors are built to withstand demanding healthcare environments. Moreover, the latex-free design ensures patient safety and comfort during monitoring. Compliance with CE, FDA, Anvisa, MDSAP ISO 80601-2-61, and ISO 10993 series guarantees the quality and regulatory adherence of Unimed's SpO2 sensors.
Packaging and Warranty for Customer Satisfaction
Unimed's SpO2 sensors come packaged in secure bags, ensuring safe storage and convenient transportation. Each package contains a single cable, and the weight may vary depending on the specific cable. To provide peace of mind, Unimed offers a warranty period of 12 months, demonstrating their commitment to customer satisfaction and product reliability.
Reliability and Benefits of Unimed's SpO2 Sensors
Unimed's SpO2 sensors deliver accurate and precise measurements, enabling healthcare professionals to make informed decisions for patient care. With their high-quality construction and materials, Unimed ensures long-lasting performance and durability. The comprehensive after-sales service and technical support provided by Unimed further enhance the reliability of their SpO2 sensors. Healthcare professionals and facilities can trust Unimed for regulatory compliance, certifications, and adherence to industry standards.
Conclusion
Unimed's SpO2 sensors are the optimal choice for accurate and reliable oxygen saturation monitoring. With compatibility across major monitor brands, robust construction, and adherence to regulatory standards, Unimed ensures healthcare professionals have access to trustworthy and efficient SpO2 sensors for superior patient care. Choose Unimed for precise and dependable oxygen saturation measurements.