Unimed's SpO2 Finger Sensor: Precision and Comfort Combined
In the world of medical equipment, precision and patient comfort are paramount.In the world of medical devices, accuracy and patient comfort are paramount. If you are looking for reliable SpO2 monitoring, then trust our brand to be the right choice! Unimed, a trusted brand in medical accessories, presents the SpO2 Finger Sensor, a game-changing solution designed to meet the needs of both healthcare professionals and patients. In this article, we'll explore the key features and advantages of Unimed's SpO2 Finger Sensor.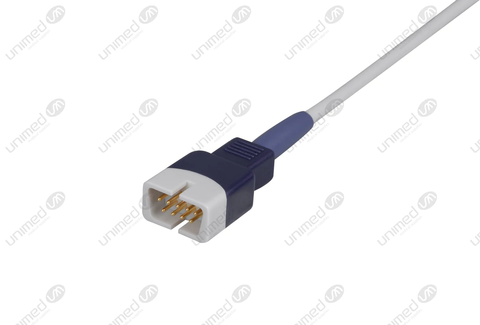 Unimed's SpO2 Finger Sensor: Precision and Performance
Unimed is committed to providing high-quality medical accessories, and the SpO2 Finger Sensor is a testament to our dedication. Designed for precision and performance, this sensor is compatible with Nellcor Oximax technology patient monitors and oximeters featuring a DB9 connector.
Seamless Compatibility with Nellcor Monitors
Unimed's SpO2 Finger Sensor is engineered to seamlessly replace the Nellcor DS-100A finger probe. This compatibility ensures that healthcare professionals can continue to use their existing equipment while benefiting from Unimed's advanced sensor technology. The transition is smooth, and the results are exceptional.
Reliable Measurement for Adult Patients
For adult patients weighing over 40 kilograms, Unimed's SpO2 Finger Sensor provides accurate and stable measurements. The sensor's GABS finger clamp is not only easy to clean but also offers a secure and comfortable fit for patients. This means a reliable reading without discomfort for those undergoing monitoring.
Sensitivity to Low Perfusion
Unimed's SpO2 Finger Sensor is designed to be sensitive to low perfusion, ensuring that even in challenging clinical situations, you can trust in the accuracy of your SpO2 measurements. This sensitivity makes it an excellent choice for a wide range of patients, including those with compromised circulation.
Biocompatibility Tested and Latex-Free
Unimed understands the importance of patient safety. Our SpO2 Finger Sensor has undergone rigorous biocompatibility testing, meeting the highest industry standards. Moreover, it is latex-free, eliminating the risk of allergic reactions and ensuring the well-being of your patients.
Conclusion
In conclusion, Unimed's SpO2 Finger Sensor is a must-have for businesses in the medical field looking to enhance their SpO2 monitoring capabilities. With its compatibility, precision, comfort, and safety features, it is the ideal choice for adult patients. Trust Unimed to provide innovative solutions that prioritize the health and well-being of your patients while maintaining seamless compatibility with Nellcor monitors.Invest in Unimed today and experience the perfect combination of precision and patient comfort. Choose Unimed for excellence in SpO2 monitoring with our SpO2 Finger Sensor.