Unimed's SpO2 Adapter Cable: Enhancing Patient Monitoring Efficiency
In the ever-evolving landscape of healthcare technology, precision and reliability are of paramount importance. Our company, Unimed, a trusted name in the industry, introduces the SpO2 adapter cable, a game-changer in patient monitoring. In this article, we will explore how Unimed's SpO2 adapter cable can revolutionize your patient monitoring experience.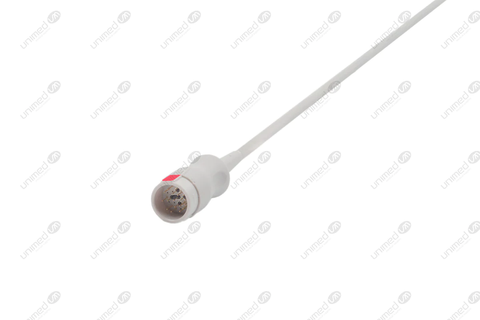 Unimed: Your Partner in Healthcare Innovation
We are renowned for our commitment to excellence, and our SpO2 adapter cable is no exception. This vital piece of equipment bridges the gap between Philips and Masimo RD Rainbow SET monitors, providing seamless compatibility and enhancing the overall efficiency of your healthcare facility.
Unmatched Compatibility:Unimed's SpO2 adapter cable is designed to work seamlessly with a wide range of medical devices. It is compatible with Philips MP2, MP5, MMS, MMX, MX100, X2, and X3 models. This compatibility ensures that you can integrate the cable effortlessly into your existing monitoring setup, without the need for costly and disruptive equipment changes.
Stringent Regulatory Compliance:Healthcare is a heavily regulated industry, and Unimed understands the importance of compliance. Unimed SpO2 adapter cable meets the rigorous standards set by the FDA,CE,TUV and RoHS. This commitment to regulatory compliance gives you peace of mind, knowing that you are using a product that meets the highest industry standards.
Cutting-Edge Technology:Our SpO2 adapter cable is equipped with Masimo RD SET 25 Needle Sensor Technology. This advanced sensor technology ensures accurate and reliable oxygen saturation readings, a critical parameter in patient monitoring. With Unimed's cable, you can trust that you are getting the most precise data to inform your patient care decisions.
Enhancing Efficiency, One Cable at a Time
The SpO2 adapter cable from Unimed is a testament to our dedication to improving healthcare outcomes. With a total cable length of 3.0 meters, a slim and durable design with a φ 4.0 mm cable OD, and constructed from high-quality thermoplastic polyurethane, this cable is built to withstand the demands of a healthcare environment. It comes latex-free, and each unit is meticulously packaged for your convenience, with a package weight of only 124 grams.
Conclusion
In conclusion, Unimed's SpO2 adapter cable is a transformative innovation in the field of patient monitoring. Our commitment to compatibility, regulatory compliance, and state-of-the-art technology makes us the ideal choice for your healthcare facility. With our solutions, you can expect improved efficiency, enhanced accuracy, and elevated patient care. Put your trust in Unimed to provide you with the cutting-edge tools you need to revolutionize your patient monitoring experience. Upgrade to Unimed's SpO2 adapter cable and unlock a new level of excellence in healthcare.