Enhance Monitoring Efficiency with Unimed's SpO2 Adapter Cable
In the fast-paced world of healthcare, efficiency is paramount. Unimed, a trusted name in medical accessories, presents the SpO2 adapter cable, a versatile solution that streamlines your patient monitoring process. This innovative accessory is designed to cater to the specific needs of healthcare professionals, reducing the complexity of managing multiple SpO2 sensor types. Join us as we explore how Unimed's SpO2 adapter cable can revolutionize your monitoring experience.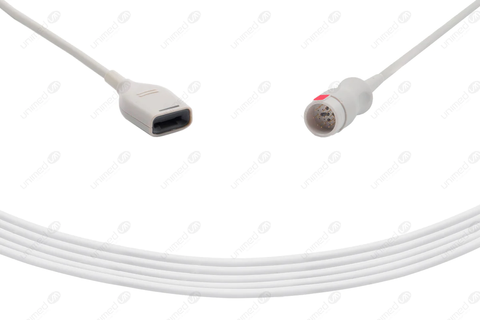 Streamline Your Workflow with SpO2 Adapter Cable
Managing a diverse array of SpO2 sensors can be a logistical nightmare. With Unimed's SpO2 adapter cable, you can bid farewell to the hassle of juggling different sensor types. By using a single adapter cable, optimizing your workflow and reducing the need for multiple sensor purchases. This means more efficient patient care and less administrative hassle.
Unparalleled Durability and Signal Quality
Our SpO2 adapter cable is built to endure the rigors of the healthcare environment. Crafted with a medical-grade TPU sheath and double shielding, it ensures stable signal transmission, enhancing the reliability of your monitoring equipment. This cable is not only durable but also incredibly cost-effective, offering long-term value for your healthcare facility.
Key Specifications of Unimed's SpO2 Adapter Cable
Unimed's SpO2 Adapter Cable is a testament to our commitment to providing healthcare professionals with top-tier medical equipment. This adapter cable boasts a range of key specifications that make it a trusted and reliable choice for patient monitoring needs. With regulatory compliance, including FDA, CE, and ISO certifications, you can rest assured that it meets the highest standards of safety and quality. Each cable is conveniently packaged in a bag for safe storage and transportation. Plus, with a 12-month warranty, Unimed stands by the durability and performance of this SpO2 Adapter Cable.
 When it comes to patient monitoring solutions, Unimed has consistently delivered excellence. Our SpO2 adapter cable not only simplifies your monitoring process but also enhances the quality and efficiency of patient care. Trust in Unimed to provide innovative solutions that make your life easier, while prioritizing the health and safety of your patients.
Conclusion
In conclusion,our SpO2 adapter cable is a must-have accessory for healthcare professionals looking to optimize their patient monitoring experience. With its compatibility, durability, and cost-effectiveness, it's a game-changer for your healthcare facility. Say goodbye to the hassle of managing multiple SpO2 sensors and embrace the efficiency and reliability of Unimed's SpO2 adapter cable.Invest in Unimed today and elevate your patient monitoring to a whole new level.