Unimed's Reusable NIBP Cuffs: Versatile and Reliable Solutions for Medical Professionals
In the dynamic world of healthcare, choosing the right equipment is pivotal for ensuring precise patient care. Among the critical components in blood pressure monitoring is the Reusable NIBP Cuff, a versatile accessory that finds application in a wide range of healthcare settings. Unimed, a renowned brand committed to excellence, offers a comprehensive line of Reusable NIBP Cuffs that meet the diverse needs of medical professionals.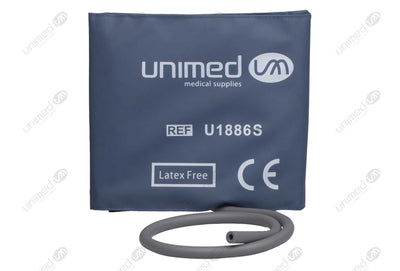 Unimed's Reusable NIBP Cuffs: Where Versatility Meets Reliability
Our Reusable NIBP Cuffs are tailored to cater to a multitude of healthcare scenarios, including the Intensive Care Unit (ICU/CCU), Neonatology Department (NICU), Anesthesiology Department, Respiratory Department, Emergency Department, patient transport, bedside monitoring, and more. Here's why Unimed's Reusable NIBP Cuffs are the preferred choice in these critical healthcare environments:
 1.Broad Compatibility:
Unimed's Reusable NIBP Cuffs are designed to seamlessly integrate with a wide range of well-known monitoring and blood pressure equipment brands.We are compatible with industry giants such as GE, Philips, Mindray, Siemens, Massimo, and many others. This compatibility ensures that healthcare facilities can maintain consistency in their equipment, making Unimed the go-to brand for versatility.
 2.Patient-Centric Design:
We offers Reusable NIBP Cuffs in 13 different arm circumference sizes, ensuring they meet the unique requirements of patients of varying sizes. The cuffs are thoughtfully designed to provide a comfortable and secure fit, enhancing patient experience and compliance.
 3.Robust and Safe Construction:
Unimed's Reusable NIBP Cuffs are crafted from medical-grade non-woven fabric or TPU material, both of which have undergone rigorous biocompatibility testing. The cuffs feature a reliable Velcro buckle design, ensuring a snug fit and high reliability during blood pressure measurements.
 4.Stringent Quality Assurance:
Our commitment to safety is evident through their extensive testing. These cuffs undergo pressure testing, withstanding pressures greater than 300mmHg without leakage or bursting, ensuring patient safety. In a 100% air tightness test, they maintain stable air pressure for 60 seconds, with air leakage less than 1mmHg, ensuring measurement accuracy. Even after 2000 uses, the cuffs continue to meet the highest quality standards.
 5.Material Excellence:
Unimed offers both non-woven and TPU cuffs to cater to different preferences. Non-woven cuffs prioritize comfort, while TPU cuffs are easier to clean. Importantly, both materials are latex-free, ensuring patient safety.
 6.Globally Recognized Certifications:
Unimed's commitment to quality and safety is validated by the CFDA, FDA, and CE certifications, providing assurance that all the products meet international standards.
Conclusion
In conclusion, Unimed's Reusable NIBP Cuffs are the embodiment of versatility, reliability, and patient-centered design in the realm of blood pressure monitoring. Whether you operate in a bustling ICU or require precise measurements in neonatology, Unimed has the perfect solution for you.When it comes to patient care, trust Unimed to deliver Reusable NIBP Cuffs that exceed your expectations. Explore the complete range of Unimed Reusable NIBP Cuffs and elevate your healthcare standards. For more information, visit our website and experience the Unimed difference.