Fostering Superior Patient Care Across Medical Specialties with Unimed's Reusable NIBP Cuff
In today's fast-paced healthcare environment, the demand for reliable and versatile medical equipment is higher than ever before. Unimed, a trusted name in the industry, takes pride in introducing its Reusable NIBP Cuff, designed to cater to the diverse needs of healthcare professionals across various specialties. In this article, we will delve into the features and advantages of our Reusable NIBP Cuff, and why it's the preferred choice for medical practitioners worldwide.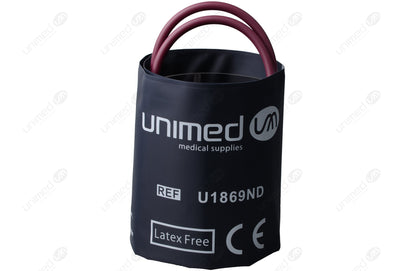 Unimed's Reusable NIBP Cuff: Adaptable for Every Scenario
Our Reusable NIBP Cuff is a game-changer in patient care. With compatibility across a wide range of well-known brands and impeccable product characteristics, it finds its applications in a multitude of healthcare scenarios, including:
 1.Intensive Care Units (ICU / CCU):
Unimed's NIBP Cuff ensures accurate blood pressure monitoring in critical care settings, where precision is paramount.
 2.Neonatology Department (NICU):
In the delicate world of neonatal care, Unimed's cuff offers the right fit for the tiniest of patients, promoting comfort and reliability.
 3.Anesthesiology Department:
Anesthesiologists can trust Unimed's cuff for consistent blood pressure readings during surgeries.
 4.Respiratory Department:
For patients with respiratory issues, Unimed's NIBP Cuff aids in real-time monitoring of blood pressure fluctuations.
 5.Emergency Department and Patient Transport:
In high-stress environments,our cuff provide quick and accurate blood pressure data during emergencies and patient transfers.
 6.Bedside Monitoring:
For continuous patient monitoring at the bedside, Unimed's cuff delivers dependable results.
Unimed's Reusable NIBP Cuff stands out due to its remarkable features:
1.Versatile Sizing:
With 13 different arm circumference sizes,we ensure a perfect fit for patients of all sizes, enhancing comfort and accuracy.
 2.Compatibility with Leading Brands:
Unimed's cuff is compatible with a multitude of international and domestic well-known brands, including GE, Philips, Mindray, Siemens, and many others, making it a versatile choice for healthcare facilities.
 3.Superior Material and Biocompatibility:
The cuff is crafted from medical-grade non-woven fabric or TPU material, both of which have passed strict biocompatibility tests, ensuring patient safety and comfort.
 4.Reliable Velcro Buckle Design:
The Velcro buckle design ensures a secure fit and reliable performance, even under pressure exceeding 300mmHg.
 5.Rigorous Testing for Safety and Accuracy:
Our NIBP Cuff undergoes rigorous testing, including pressure testing and air tightness testing, guaranteeing safety and measurement accuracy.
 6.Longevity and Ease of Maintenance:
The cuff maintains its reliability even after 2000 uses. Choose between non-woven cuffs for enhanced comfort or TPU cuffs for easier cleaning, depending on your preferences.
 7.Certified Quality:
Unimed's Reusable NIBP Cuff is latex-free and holds certifications from CFDA, FDA, and CE, assuring compliance with international quality standards.
Conclusion
In conclusion,our Reusable NIBP Cuff redefines patient care by offering versatility, reliability, and compatibility across various medical specialties. With its wide range of applications and exceptional features, Unimed's NIBP Cuff is the top choice for healthcare professionals committed to delivering the highest standards of patient care.Elevate your patient monitoring experience with our Reusable NIBP Cuff. Visit our website to learn more about this exceptional product and how it can enhance your medical practice. Trust us for innovative solutions in healthcare.