Unimed's ECG Trunk Cables: A Reliable Solution for Seamless Patient Monitoring
In the fast-paced world of healthcare, reliable and efficient patient monitoring equipment is crucial to providing top-notch care. UNIMED, a leading high-tech company specializing in medical monitoring consumables, proudly presents its range of ECG trunk cables designed to meet the demanding needs of healthcare professionals. In this article, we explore Unimed's Biolight Compatible ECG Trunk Cables, highlighting their technical specifications, regulatory compliance, and compatibility with other essential medical devices.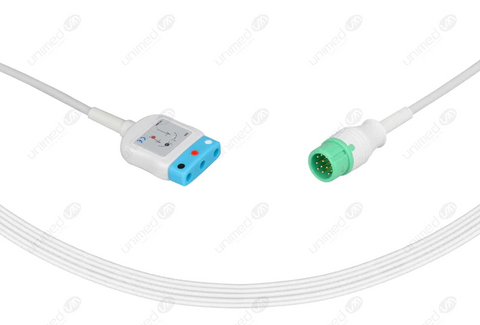 Unimed's Biolight Compatible ECG Trunk Cables - A Perfect Fit for Precise Monitoring
Unimed's Biolight Compatible ECG Trunk Cables, with the Part Number: D-1357, offer a seamless connection between patients and monitoring equipment, ensuring precise and real-time ECG data. These cables are meticulously designed to meet Category ECG Trunk Cables technical specifications, delivering accurate and reliable readings that healthcare professionals can trust.
Regulatory Compliance and Assurance of Quality
At Unimed, our commitment to quality is unparalleled. The Biolight Compatible ECG Trunk Cables are CE, FDA, Anvisa, MDSAP, ANSI/AAMI EC53, and ISO 10993 certified, meeting the highest standards of regulatory compliance. This ensures that medical facilities and practitioners can confidently rely on Unimed's ECG trunk cables for consistent and accurate results.
Versatility and Compatibility - Pairing with Essential Disposable EKG Lead Wires
Unimed's Biolight Compatible ECG Trunk Cables come equipped with Monitor End Connector 12 Gauge Balls and Grimm Lead End Connector Din Style 3-pin/5-pin, ensuring seamless compatibility with a range of monitoring devices. Furthermore, these cables can be effortlessly paired with Din Compatible Disposable EKG Lead Wires and AHA, AAMI Radioactive Disposable ECG Lead Wires - AHA, making them a versatile and indispensable addition to any medical setting.
Unimed's ECG Trunk Cables are designed with the utmost attention to detail, ensuring an optimal user experience. The cables are latex-free, eliminating potential allergic reactions for patients. Their 8 ft. length provides flexibility and convenience during patient monitoring sessions. The TPU Jacket and Gray color-coded leads ensure durability and ease of identification, streamlining medical procedures for healthcare practitioners.
Conclusion
Unimed's Biolight Compatible ECG Trunk Cables are the epitome of excellence in patient monitoring equipment. With their precise technical specifications and extensive regulatory compliance, healthcare professionals can rely on them for accurate ECG data with complete confidence. The cables' seamless compatibility with various monitoring devices and their latex-free and durable design further solidify Unimed's commitment to delivering high-quality medical monitoring consumables. Trust Unimed to provide ECG trunk cables that ensure seamless patient monitoring, enabling healthcare professionals to deliver top-notch care and enhance patient outcomes.