Unimed - Reliable ECG Trunk Cable for Seamless Patient Monitoring
At UNIMED, we understand the importance of seamless patient monitoring in healthcare settings. As a leading provider of medical supplies, Unimed offers a wide range of high-quality trunk cables that are compatible with various monitoring systems, including Philips, GE, Datascope, Medtronic, Dräger, Abbott, and more. In this article, we will explore the significance of ECG trunk cable and the benefits of choosing Unimed's top-notch products for efficient patient monitoring.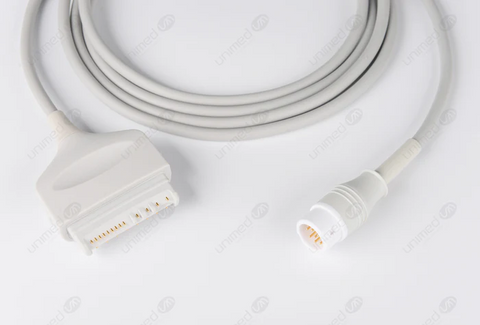 The Role of ECG Trunk Cable in Patient Monitoring
ECG trunk cables play a crucial role in patient monitoring by bridging the connection between the monitoring system and the leads. They serve as an ancillary part of the ECG system, ensuring accurate transmission of vital signals to the monitoring equipment. Unimed's ECG trunk cable is designed to streamline the process of patient monitoring, providing healthcare professionals with reliable data for informed decision-making.
Unimed's Versatile Trunk Cable for Leading Monitoring Systems
Unimed takes pride in offering trunk cables that are compatible with a wide range of monitoring systems used in healthcare facilities. Whether it's Philips, GE, Datascope, Medtronic, Dräger, Abbott, or other leading brands, Unimed's medical trunk cables are engineered to fit seamlessly with OEM and direct lead compatibility. Our trunk cable exhibit excellent abrasion resistance, ensuring longevity and durability in demanding medical environments.Unimed's trunk cable is fully shielded, providing robust protection against interference and ensuring accurate data transmission. With a focus on signal integrity, our trunk cable maintain a stable connection between the monitoring system and the leads, reducing the risk of signal disruptions. Healthcare professionals can rely on Unimed's trunk cables for consistent and reliable patient monitoring.
Enhanced Connectivity for Improved Patient Care
Unimed's ECG trunk cable is engineered to ensure enhanced connectivity, minimizing signal loss and maintaining data accuracy during patient monitoring. With our reliable trunk cables, healthcare professionals can trust that the critical data from the leads will be seamlessly transmitted to the monitoring system, enabling them to make informed decisions promptly. This enhanced connectivity enhances patient care and contributes to better clinical outcomes.
Conclusion
In conclusion, Unimed is the go-to choice for healthcare facilities seeking reliable and efficient ECG trunk cables for seamless patient monitoring. Our top-quality trunk cables offer compatibility with leading monitoring systems, ensuring enhanced connectivity and improved patient care. With customization options available and an unwavering commitment to quality and compliance, Unimed provides tailored solutions to meet unique requirements. Trust Unimed for your ECG trunk cable needs and experience the benefits of using high-performance cables that contribute to better patient outcomes.