Unimed's Cutting-Edge NIBP Cuffs: Elevating Patient Monitoring in Healthcare
In the ever-evolving landscape of healthcare, UNIMED emerges as a leading brand, offering a diverse range of medical solutions to cater to the dynamic needs of healthcare providers. Unimed's state-of-the-art NIBP cuffs are a prime example of their commitment to delivering innovative and reliable medical equipment. This article delves into the exceptional features and compatibility of Unimed's NIBP cuffs, our seamless integration with well-known brands, and our unwavering focus on quality and certifications.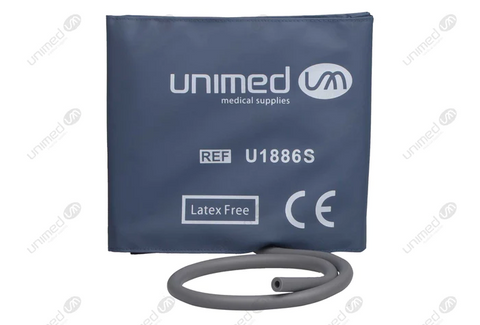 Unimed's NIBP Cuffs: Advancing Patient Monitoring Technology
Unimed's NIBP cuffs boast a precision fit design, ensuring optimal comfort and accuracy during blood pressure measurements. With various cuff sizes available, healthcare providers can cater to patients of all ages and sizes, making it an ideal solution for various medical scenarios.As a frontrunner in medical technology, Unimed's NIBP cuffs are specifically crafted to be compatible with leading monitoring equipment brands, such as GE, Philips, Siemens, and more. The integration of Unimed's NIBP cuffs into existing systems allows for a seamless transition to advanced patient monitoring capabilities.
Reliability and Safety: The Core of Unimed's NIBP Cuffs
Unimed's unwavering commitment to safety is evident in the rigorous testing our NIBP cuffs undergo. Each cuff is tested to withstand air pressure beyond 300mmHg, guaranteeing durability and safety. Moreover, the cuffs are constructed from medical-grade materials and have passed strict biocompatibility tests, ensuring patient well-being throughout the monitoring process.Unimed's NIBP cuffs undergo extensive quality assurance measures, including 100% airtightness testing. With air leakage of less than 1mmHg within 60 seconds of air pressure stabilization, healthcare providers can trust the accuracy of blood pressure measurements, enabling them to make informed decisions for the best patient outcomes.
Comfort and Compliance: A Winning Combination
Unimed prioritizes patient comfort with a latex-free design for our NIBP cuffs. This eliminates the risk of latex allergies and enhances patient satisfaction during monitoring procedures.Unimed's commitment to excellence is reflected in our NIBP cuffs' certifications, including CFDA, FDA, and CE. These certifications vouch for the brand's adherence to international quality standards, solidifying Unimed's position as a reliable and trustworthy medical equipment provider.
Conclusion
In conclusion, Unimed's cutting-edge NIBP cuffs epitomize the brand's pursuit of excellence in patient monitoring technology. With a focus on precision, compatibility, reliability, and safety, Unimed empowers healthcare providers to deliver exceptional patient care. Choose Unimed's NIBP cuffs to enhance your medical practice, and experience the confidence that comes from partnering with a brand committed to advancing healthcare solutions.Embrace Unimed's NIBP cuffs and elevate your patient monitoring capabilities today.