Unimed Medical NIBP Cuff - Your Premium Choice for Reliable Blood Pressure Monitoring
As a leading brand in the medical industry, UNI Medical takes pride in introducing its innovative NIBP (Non-Invasive Blood Pressure) Airbag Cuff. Designed with precision and user comfort in mind, this soft TPU cuff with a nylon airbag offers unmatched reliability for accurate blood pressure measurements. With a focus on biocompatibility, latex-free materials, and ergonomic design, UNIMED's NIBP cuff is the ideal choice for prolonged blood pressure monitoring. Let's explore the exceptional features and benefits that make Unimed Medical NIBP Cuff stand out as your ultimate solution.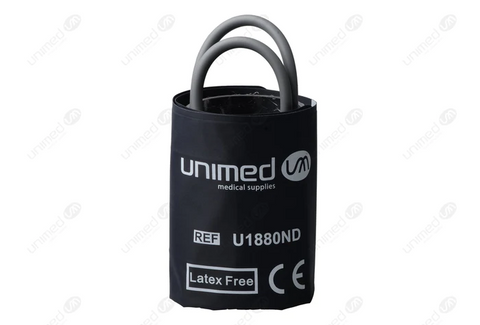 Advanced Design for Enhanced Durability and Comfort
Unimed Medical NIBP Cuff combines a soft TPU cuff with a robust nylon airbag, ensuring its strength to withstand repeated inflation without compromising on user comfort. The cuff's ergonomic design makes it a perfect fit for user's arm, eliminating discomfort during extended monitoring sessions. This premium quality cuff guarantees precise and reliable blood pressure measurements, making it an essential tool for healthcare professionals.
Biocompatible and Latex-Free Materials
Unimed Medical prioritizes the safety and well-being of users. The NIBP Cuff has undergone rigorous testing for biocompatibility, assuring its compatibility with human skin without causing any adverse reactions. Moreover, all materials in contact with the skin are latex-free, ensuring a worry-free experience for patients with latex sensitivities.
Seamless Integration with Mainstream Blood Pressure Monitors
Unimed NIBP Cuff features specific cuff connectors that effortlessly support the functionality of mainstream blood pressure monitors. This seamless integration ensures compatibility and accurate readings, allowing healthcare professionals to rely on Unimed's NIBP Cuff for consistent and precise blood pressure monitoring.Unimed Medical NIBP Cuff not only excels in performance but also stands out for its cost-effectiveness. The cuff's durable design and easy cleaning process reduce the need for frequent replacements, optimizing healthcare facility budgets. Additionally, its user-friendly attributes make it simple and hassle-free for medical personnel to use, enhancing overall efficiency in patient care.
Conclusion
In conclusion, Unimed Medical NIBP Cuff is the premium choice for healthcare professionals seeking reliable and accurate blood pressure monitoring solutions. With its advanced design, biocompatible materials, and seamless integration with mainstream blood pressure monitors, Unimed's NIBP Cuff ensures precise and comfortable measurements.Our brand's commitment to excellence is evident in the NIBP Cuff's durability, ease of cleaning, and cost-effectiveness, making it a wise investment for any medical setting. Trust Unimed to deliver superior medical products. Choose Unimed Medical NIBP Cuff, and experience unparalleled accuracy, comfort, and efficiency in blood pressure monitoring - a testament to Unimed's dedication to meeting the evolving needs of healthcare professionals worldwide.