Unimed Reusable NIBP Cuff: Enhancing Patient Monitoring in Diverse Scenarios
UNIMED, a renowned name in the medical industry, takes pride in offering a comprehensive range of high-quality medical products. Among our exceptional offerings is the Unimed Reusable NIBP Cuff, a versatile solution catering to various usage scenarios such as the Intensive Care Unit (ICU/CCU), Neonatal Unit (NICU), Anesthesiology, Respiratory Medicine, Emergency and Patient Transportation, Bedside Monitoring, and more. Compatible with leading brands like GE, Philips, Dräger, and others, the Unimed Reusable NIBP Cuff boasts a plethora of features designed to ensure patient comfort, accuracy, and safety.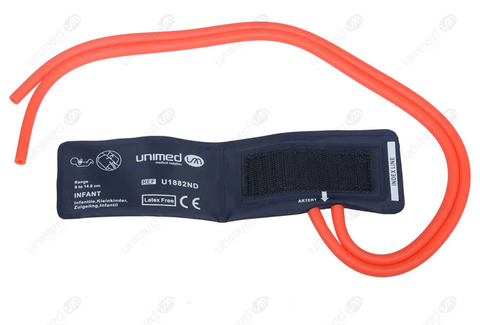 Unimed Reusable NIBP Cuff: A Perfect Fit for All Patients
Diverse Size Options for Enhanced FlexibilityUnimed understands the importance of catering to patients of all sizes. With 13 peripheral arm sizes, our Reusable NIBP Cuff ensures a reliable fit for patients ranging from neonates to adults. This adaptability makes it an ideal choice across various healthcare scenarios, accommodating the unique needs of each patient.The Unimed Reusable NIBP Cuff offers the choice between non-woven fabric and TPU material cuffs. While non-woven cuffs provide enhanced comfort for patients, TPU cuffs are easier to clean and maintain, making them an excellent choice for busy healthcare environments.
Seamless Compatibility with Renowned Brands
Unimed's commitment to convenience is evident in the specific cuff connector variety of their Reusable NIBP Cuff. Designed to be compatible with numerous international and domestic famous brands of monitoring and blood pressure equipment, healthcare professionals can trust that the Unimed NIBP Cuff seamlessly integrates with their existing medical devices.
Top-Notch Material and Safety Assurance
The Unimed Reusable NIBP Cuff is crafted with medical-grade non-woven fabric or TPU material, ensuring patient comfort and safety during extended use. The choice of materials and design are thoroughly tested for biocompatibility, meeting stringent medical standards to guarantee patient well-being.Unimed leaves no room for compromise when it comes to safety. The Reusable NIBP Cuff is tested to withstand air pressure greater than 300mmHg, proving its resilience and durability. The 100% airtightness test ensures accurate measurement, while the cuff's ability to withstand 2000 cycles of inflating and deflating verifies its reliability in real-life medical settings.
Conclusion
In conclusion, Unimed's Reusable NIBP Cuff emerges as a cutting-edge medical solution, offering compatibility, safety, and comfort across diverse usage scenarios. With a focus on patient well-being and compatibility with renowned medical equipment brands, Unimed continues to set new standards in the medical supplies industry. Choose Unimed's Reusable NIBP Cuff for your healthcare facility and witness enhanced patient monitoring with precision, reliability, and care.