Unimed - Providing Reliable ECG Wires for Critical Healthcare Needs
Welcome to UNIMED, a renowned brand in the medical equipment industry, dedicated to delivering top-quality solutions for healthcare professionals worldwide. In this  article, we'll delve deeper into the significance of ECG wires in various medical scenarios and explore how Unimed's exceptional products cater to the needs of medical practitioners and patients alike.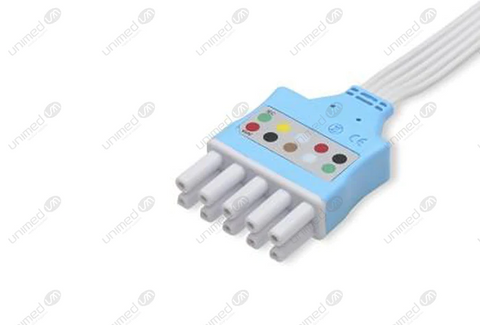 The Significance of ECG Wires in Modern Healthcare
In the fast-paced and dynamic world of modern healthcare, ECG wires play an indispensable role in ensuring accurate patient monitoring and diagnosis. Electrocardiogram (ECG) is a vital diagnostic tool used to assess heart health and identify abnormalities that may indicate potential cardiac issues. As such, ECG lead wires are essential components in intensive care units (ICU/CCU), neonatal units (NICU), anesthesiology, respiratory care, emergency settings, and patient transfers.
Unimed ECG Wires - A Cut Above the Rest
At Unimed, our commitment to excellence is evident in the design and production of our ECG lead wires. The adoption of medical-grade TPU plastic and low impedance wire further reinforces the superiority of Unimed's ECG wires. These materials offer advantages like excellent texture, exceptional bending resistance, corrosion resistance, and waveform stability, ensuring reliable and accurate monitoring throughout medical procedures. Our commitment to quality extends to the equipment end connecting hardware and electrode surface, which are gold-plated and nickel-plated, ensuring excellent electrical conductivity and reliable connections for precise monitoring.
Unmatched Quality and Certifications
Quality is the cornerstone of Unimed's philosophy, and it reflects in every product we offer. Our ECG lead wires undergo rigorous biocompatibility tests, adhering to strict international standards, and ensuring the safety and well-being of patients. As a testament to their excellence, Unimed's ECG lead wires have obtained certifications from esteemed regulatory bodies such as the National Medical Products Administration (NMPA) and the Conformité Européenne (CE) marking. These certifications are a testament to the reliability and efficacy of Unimed's products, further reinforcing the trust placed in our brand by healthcare professionals globally.
Conclusion
In conclusion, Unimed remains at the forefront of the medical equipment industry, delivering cutting-edge ECG wires that medical professionals can wholeheartedly trust. With a wide range of compatible products, meticulously designed for seamless integration into various medical settings, Unimed ensures critical healthcare needs are met with precision and efficiency.Our commitment to quality, versatility, and unmatched performance has earned us a reputation as a leading brand in the industry. Choose Unimed and experience the pinnacle of innovation in ECG lead wires - a brand that prioritizes your patients' health and well-being above all else.