Unimed - Ensuring Patient Safety with Disposable 3 Lead ECG Cables
UNIMED is a reputable brand in the medical industry, offering a wide range of patient ECG monitoring medical cables, ECG leads, and accessories. With a commitment to the highest standards and quality assurance using medical-grade materials, Unimed products are CE and FDA approved, adhering to ANSI/AAMI EC53 requirements. These products boast wide compatibility with most patient monitor brands, including Philips, GE, Masimo, and others, making them interchangeable with original equipment. Among our innovative offerings, Unimed's disposable 3 Lead ECG Cables play a vital role in ensuring patient safety and infection control in clinical settings.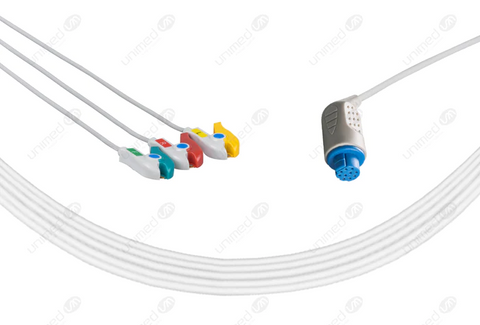 Understanding the Importance of Electrocardiogram (ECG) Monitoring
An electrocardiogram (ECG) is a critical recording of the heart's electrical activity, frequently performed in various clinical settings, including hospitals and primary care facilities. This standard cardiac test is especially crucial for high-risk, critically ill patients, and those who have undergone cardiac surgery. ECG recordings are broadly categorized into two types: monitoring and diagnostic. For rhythm monitoring, 3-lead or 5-lead ECGs are commonly used.
Addressing Infection Risks and Cross-Contamination
Despite proper cleaning, reusing ECG cables can pose a significant risk of cross-infection, especially in surgical settings. Surgical site infections are a particular concern for patients undergoing coronary artery bypass grafting (CABG), as the ECG cables are positioned near the incision site. To mitigate these nosocomial risks, disposable ECG lead wires play a crucial role in infection control programs.
The Advantages of Unimed Disposable 3 Lead ECG Cables
Unimed Medical's disposable 3 Lead ECG Cables are designed to enhance patient safety and reduce the risk of hospital-acquired infections (HCAI) and post-operative surgical site infections. These single-use cables and leads are intended for connection to the monitor and are used exclusively for one patient, eliminating the potential for cross-contamination between patients.By incorporating Unimed's disposable 3 Lead ECG Cables into infection control protocols, healthcare facilities can effectively reduce infection rates and enhance patient care outcomes.
Conclusion
In conclusion, Unimed is a brand dedicated to patient safety and infection control in healthcare settings. Our wide range of patient ECG monitoring medical cables, ECG leads, and accessories are designed to the highest standards, adhering to medical-grade materials and certifications.Unimed's Disposable 3 Lead ECG Cables stand out as a critical tool in mitigating cross-infection risks and hospital-acquired infections. By using these disposable cables as part of an overall infection control program, healthcare professionals can provide safer and more reliable patient care.Choose Unimed as your trusted partner for patient ECG monitoring solutions.