Unimed Cables: Your Trusted Partner in Medical Connectivity Solutions
In the dynamic world of medical supplies, UNIMED shines as a reliable brand providing an extensive range of cables, catering to diverse healthcare needs. Unimed's comprehensive lineup includes ECG Cables, EKG Cables, SpO2 Interface Cables, IBP Adapter Cables, and more. As a businessman, it's crucial to understand the exceptional features and compatibility of Unimed cables. In this article, we explore the versatility and reliability of Unimed cables, with a focus on their SpO2 Interface Cables, ensuring seamless connectivity with various patient monitors and pulse oximeters.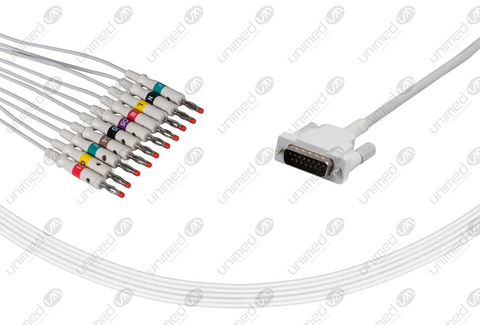 Unimed Cables: A Comprehensive Solution
Unimed Medical Supplies offers an array of cables, and SpO2 Interface Cables are no exception. These cables are designed to be widely compatible with major patient monitors and pulse oximeters, such as Philips, GE, Ohmeda, Datascope, DETEX, Nihon Kohden, Nellcor, and more. The universal compatibility of Unimed cables ensures healthcare professionals have the freedom to choose the best medical devices while maintaining seamless connectivity.Patient safety is a top priority, and Unimed ensures it by obtaining CE and FDA approvals for their SpO2 Interface Cables. These certifications validate the cables' adherence to international standards, guaranteeing their effectiveness and reliability in various markets worldwide.
SpO2 Interface Cables: Enhancing Patient Monitoring
Unimed's SpO2 Interface Cables enable the integration of SpO2 sensors with different monitors, ensuring consistent and accurate readings. With a total length of 7 feet, a grey color code, and a cable outer diameter of 4.0 mm, these cables are designed for ease of use and durability in demanding healthcare environments.
Superior Materials and Design
Unimed takes pride in using top-quality materials, such as thermoplastic polyurethane, in crafting their SpO2 Interface Cables. This choice of materials ensures the cables' resilience and flexibility, with the added benefit of being latex-free, making them suitable for a wide range of patients, including those with latex sensitivities.
Conclusion
In conclusion, Unimed Cables stand out as a trusted partner in medical connectivity solutions, catering to various healthcare needs with their wide array of cables. Their SpO2 Interface Cables exemplify the brand's commitment to compatibility, safety, and quality, providing seamless connectivity with numerous patient monitors and pulse oximeters. As a businessman, choosing Unimed Cables means empowering healthcare facilities with reliable and efficient medical devices, enabling healthcare professionals to deliver optimal patient care.Our SpO2 Interface Cables, CE and FDA approved, serve as a testament to the brand's commitment to excellence and reliability. Embrace Unimed Cables today and elevate your medical connectivity solutions to new heights.