Transforming Healthcare Product Production
Through the development of cutting-edge medical monitoring consumables, Unimed is revolutionising the medical supplies manufacturers sector. We are able to introduce improvements in numerous fields of medical monitoring because to our dedication to research and development. Unimed is at the forefront of driving innovation in the sector, leading with ECG monitoring consumables, state-of-the-art blood oxygen monitoring consumables, and ground-breaking foetal monitoring consumables.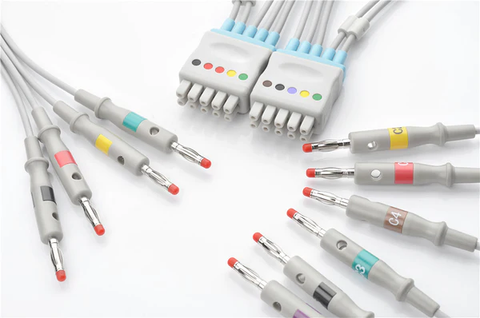 Advancements in ECG Monitoring Consumables
Unimed's ECG monitoring consumables incorporate the latest technological advancements to enhance patient care. Our electrodes, cables, and leads are designed to provide accurate and reliable ECG readings, supporting healthcare professionals in diagnosing cardiac conditions and delivering optimal treatment. With Unimed, you can access state-of-the-art ECG monitoring consumables that meet the evolving needs of the healthcare industry.
Cutting-Edge Blood Oxygen Monitoring Consumables
Accurate monitoring of blood oxygen levels is crucial for assessing patient health. Unimed's cutting-edge blood oxygen monitoring consumables utilize advanced sensor technology to deliver precise readings. Our sensors and cables are designed to provide healthcare providers with accurate and reliable data, enabling them to make informed decisions and provide timely interventions. With Unimed, you can trust that your patients' vital signs are monitored with the utmost precision.
Revolutionary Fetal Monitoring Consumables
 Unimed is proud to introduce revolutionary fetal monitoring consumables that enhance prenatal care. Our fetal monitoring sensors and cables are designed to capture fetal heart rate and uterine contractions accurately. With our innovative solutions, healthcare professionals can monitor fetal well-being with greater accuracy and efficiency. Unimed's fetal monitoring consumables empower healthcare providers to deliver exceptional care during pregnancy and childbirth.
Exceptional Quality and Market Access
 Unimed is committed to delivering exceptional quality in our medical supplies. We prioritize rigorous quality control measures throughout our manufacturing process to ensure that our products meet and exceed industry standards. By choosing Unimed as your partner, you can trust that you will receive reliable and high-quality medical supplies that support your commitment to patient care.
 To further reinforce our dedication to quality, Unimed holds international certifications that demonstrate our commitment to safety and compliance. These certifications provide assurance that our products adhere to strict regulatory requirements. When you choose Unimed from your one of the reliable medical supplies manufacturers, you gain access to trusted, certified products that meet industry standards.
Streamlined Services for  Customers
At Unimed,we understand the unique requirements of our customers. We offer customized solutions to meet your specific needs, ensuring that our medical supplies align with your unique requirements as one of the greatest medical supplies manufacturers. Our efficient manufacturing process allows us to provide flexibility and timely delivery, ensuring that you receive your orders promptly. Additionally, our dedicated support team is available to provide assistance at every step, ensuring a seamless experience from order placement to post-delivery support.
Conclusion
In conclusion, Unimed is revolutionizing the medical supplies manufacturing industry through our innovative medical monitoring consumables. With advancements in ECG monitoring consumables, cutting-edge blood oxygen monitoring consumables, and revolutionary fetal monitoring consumables, we empower healthcare providers to deliver exceptional care. Our commitment to exceptional quality, market access, and streamlined services ensures that partnering with Unimed is a strategic choice for your medical supplies needs.