Strategic Improvements to Unimed's IBP Transducer Cable for Enhanced Patient Monitoring Systems
In the ever-evolving landscape of healthcare technology, ensuring seamless compatibility and reliable signal transmission is paramount. Unimed, a trusted brand in the medical equipment industry, is proud to introduce its advanced IBP transducer cable, designed to expand the functionality and versatility of your patient monitoring systems. In this article, we will delve into the features and benefits of Unimed's IBP transducer cable, highlighting its importance for healthcare professionals.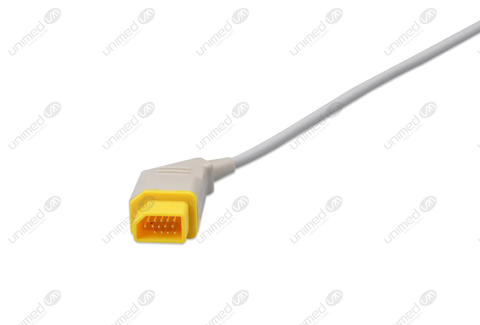 Unimed: Your Partner in Medical Equipment
We have a rich history of delivering cutting-edge solutions to healthcare providers worldwide. As a brand known for its commitment to quality and innovation,wecontinue to push the boundaries of what is possible in patient care. With a focus on enhancing the capabilities of patient monitoring systems, Unimed presents its IBP transducer cable.
Enhanced Compatibility and Versatility
Our IBP transducer cable is engineered to convert IBP transducers for use with the latest monitors, significantly expanding the range of compatible devices. This versatility ensures that healthcare providers can seamlessly integrate Unimed's IBP transducer cable into their existing setups, saving both time and resources.
Premium Build for Optimal Performance
We spare no effort in delivering a high-quality product. The IBP transducer cable is constructed with TPU material, providing complete shielding performance, stable signal transmission, and robust resistance to interference. The cable's plug, made of durable nylon, combined with gilded pins, ensures a secure and conductive connection that withstands the rigors of healthcare settings.
Lightweight and Integrated Design
we understand the importance of efficiency and convenience in healthcare environments. The IBP transducer cable is designed to be lightweight and user-friendly, making it easy to handle and integrate into patient monitoring systems. This thoughtful design minimizes disruptions in medical procedures and enhances the overall experience for healthcare professionals.
A Wide Range of Options
Unimed recognizes the diverse needs of healthcare facilities and offers a comprehensive selection of transducer IBP adapter cables. Whether you require cables from Argon, B.B Aun, B.D, Edwards, Medex/Abbott, Utah, PVB, or other leading brands, we have you covered. This extensive range of options ensures that you can find the perfect IBP transducer cable to suit your specific requirements.
Conclusion
In conclusion, the IBP transducer cable offered by our company represents a paradigm shift in patient monitoring technology. We are committed to equipping healthcare professionals with the necessary tools to provide exceptional patient care, and our cable stands at the forefront of that mission. With its heightened compatibility, superior build quality, and extensive range of options, choosing Unimed means selecting more than just a brand – it means choosing a collaborative partner dedicated to seamless technology integration in healthcare. Trust Unimed to elevate your patient monitoring systems with the revolutionary IBP transducer cable, and embrace the future of medical equipment compatibility.