Harnessing the Power of Mainstream ETCO2 Monitoring with Unimed
In the fast-paced world of healthcare technology, staying at the forefront of innovation is crucial.At Unimed, we understand the importance of equipping healthcare facilities with state-of-the-art solutions to provide the best possible care.So in this article, we'll take an in-depth look at the world of mainstream ETCO2 monitoring and how Unimed revolutionizes this important aspect of patient care.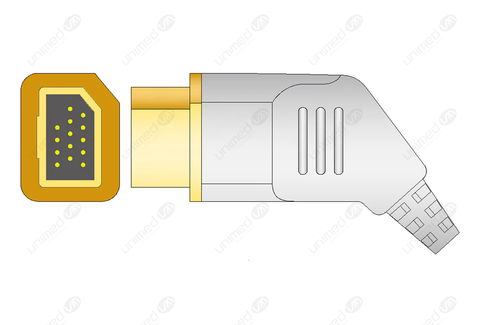 Unveiling Mainstream ETCO2 Technology
Mainstream ETCO2 (End-Tidal Carbon Dioxide) monitoring has emerged as a game-changer in the medical field. This technology allows healthcare professionals to gain real-time insights into a patient's respiratory status, making it an indispensable tool for both diagnosis and treatment.
Why Choose Unimed?
Unimed, a trusted name in healthcare technology, has introduced a unified external side flow ETCO2 sensor that is compatible with a wide range of medical equipment. Whether you are using an ISA AX, a Philips M2741A, a Zoll 8000-0367, or an OEM respirator, Unimed's ETCO2 solutions have got you covered.
Seamless Integration with Host Systems
Our C300 CO2 module is designed for hassle-free integration. It draws power from the host system, ensuring efficiency without compromising safety. With voltage requirements of +5.00 V DC, Unimed's CO2 module operates within a range of 70 mA to 240 mA, meeting the IEC 60601-1 standard for rated power systems.
Reliability and Performance
Operating temperature and humidity are vital considerations in healthcare settings. Unimed's C300 CO2 module operates flawlessly in temperatures ranging from 0 to 50℃ and humidity levels between 10% and 90% RH, with no condensation issues. Its robust design ensures durability, even in challenging environments.
Safety First
Patient safety is paramount. Unimed's C300 CO2 module provides electric shock protection and adheres to the relevant standards, including IEC 60601-1 Type BF. You can trust us to prioritize patient well-being.
Durability and Compliance
Unimed's connector strain relief system can withstand a remarkable 10,000 bending cycles, while the average connector hold force is an impressive 90 Newton. Unimed's dedication to compliance is evident in its adherence to various regulatory standards.
Conclusion
In conclusion, when it comes to Mainstream ETCO2 monitoring,we are your trusted partner. With a commitment to innovation, safety, and reliability, Unimed's C300 CO2 module is the perfect choice for healthcare facilities looking to enhance patient care. Invest in Unimed's state-of-the-art technology today and stay ahead in the world of healthcare.Ensure your medical facility is equipped with the best – choose us for Mainstream ETCO2 monitoring solutions. Experience the future of healthcare technology with Unimed.