Congratulation! Unimed Obtains MDSAP Certificate
Congratulation! Unimed Obtains MDSAP Certificate
Unimed is pleased to announce that we have received the MDSAP certificate issued by TÜV SÜD. This is successful accomplishment of the quality management system audit by Medical Device Single Audit Program (MDSAP).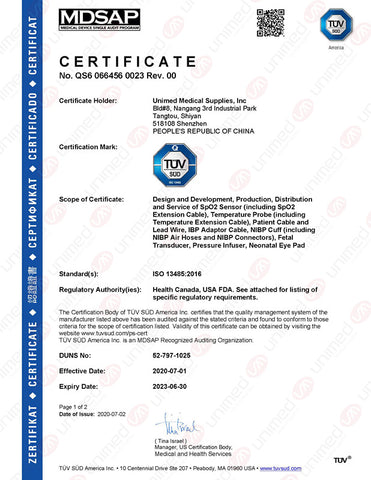 As a leading medical supplies manufacturer specializing in patient monitoring supplies and accessories, Unimed has previously passed ISO 13485:2016, US FDA Quality System Regulation, Medical Device Directive 93/42/EEC, China Medical Device Manufacturing Quality Management Regulations and other related quality management system audits. Unimed has obtained market access qualifications such as CE in EU, FDA in the US, NMPA in China, PMDA in Japan, ANVISA Brazil, Canada HC and other regions.
MDSAP certificate exemplifies Unimed's ability to design, develop and manufacture safe and effective medical devices that meet the highest quality and safety standards set by the regulatory authorities. Unimed will continue to focus on its core values and provide customers all over the world with one station solution of products, reliable quality and compatibility, as well as professional, fast and excellent services.
What is the Medical Device Single Audit Program?
The Medical Device Single Audit Program (MDSAP) is a program that allows the conduct of a single regulatory audit of a medical device manufacturer's quality management system that satisfies the requirements of multiple regulatory jurisdictions. Audits are conducted by Auditing Organizations authorized by the participating Regulatory Authorities to audit under MDSAP requirements.
The MDSAP is a way that medical device manufacturers can be audited once for compliance with the standard and regulatory requirements of up to five different medical device markets: Australia, Brazil, Canada, Japan and the United States. The program's main mission is to "…jointly leverage regulatory resources to manage an efficient, effective, and sustainable single audit program focused on the oversight of medical device manufacturers."