Unimed's Cutting-Edge Nellcor SpO2 Sensor: Elevating Patient Care with Precision Monitoring
In the realm of healthcare technology, UNIMED takes center stage as a brand synonymous with innovation and excellence. Unimed's commitment to delivering state-of-the-art medical solutions is epitomized by our Nellcor SpO2 Sensor. In this  article, we delve into the remarkable features and benefits of Unimed's Nellcor SpO2 Sensor, designed to enhance patient care through precise monitoring.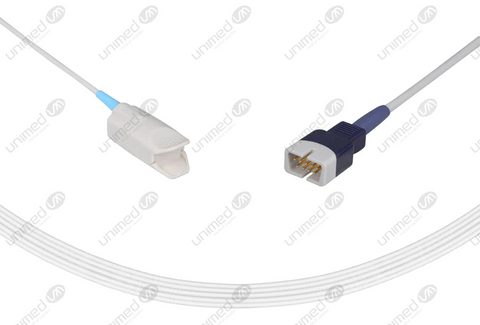 Unveiling Optimal Performance for Enhanced Patient Care
Unimed's Nellcor SpO2 Sensor is engineered to seamlessly integrate with various patient monitoring systems, solidifying its position as a leader in the healthcare technology landscape. With a strategic compatibility with leading monitoring equipment brands, including Nellcor and more, healthcare providers gain access to a wealth of accurate data, empowering them to make informed decisions for superior patient care. This compatibility broadens the spectrum of monitoring possibilities, ensuring comprehensive patient data collection for improved clinical outcomes.
Superior endurance and insight techniques
A cornerstone of Unimed's Nellcor SpO2 Sensor lies in its cutting-edge technology. Boasting precise signal transmission and robust anti-interference capabilities, the sensor guarantees the delivery of reliable and accurate data. This empowers healthcare providers to proactively intervene, leading to enhanced patient outcomes. The sensor's ability to effortlessly collect and deliver accurate data enables medical professionals to confidently make crucial decisions, shaping the course of patient care.
Unimed's commitment to excellence shines through in the design of the Nellcor SpO2 Sensor. Crafted with durability in mind, the sensor is equipped with gold-plated pins that ensure steadfast connections and efficient conduction during critical patient monitoring. This design not only reduces signal loss but also minimizes disruptions, ensuring a seamless flow of data for uninterrupted patient care.
Compliance and Assurance: Quality Backed by Industry Standards
Unimed's unwavering dedication to quality is underscored by the Nellcor SpO2 Sensor's regulatory compliance with industry benchmarks. Holding certifications such as CE, FDA, and ISO 80601-2-61, the sensor adheres to stringent safety and performance standards. These certifications serve as a testament to the sensor's safety, effectiveness, and adherence to international quality norms, providing healthcare providers with added confidence in their patient care processes.
Conclusion
In conclusion, Unimed's cutting-edge Nellcor SpO2 Sensor exemplifies the brand's commitment to advancing healthcare technology. With seamless integration, robust signal transmission, and compliance with industry standards, Unimed empowers healthcare providers to elevate patient monitoring precision and deliver exceptional care. Choose Unimed's Nellcor SpO2 Sensor to experience unparalleled accuracy and seamless patient monitoring in your medical practice.Embrace Unimed's Nellcor SpO2 Sensor to enhance your patient monitoring capabilities and advance healthcare excellence.