Unimed NIBP Cuffs: Accurate and Convenient Blood Pressure Measurement
Unimed is proud to introduce the range of NIBP cuffs, designed to provide accurate and convenient blood pressure measurement. In this article, we will highlight the features of Unimed NIBP cuffs that make them the ideal choice for healthcare professionals seeking accuracy and convenience in blood pressure monitoring.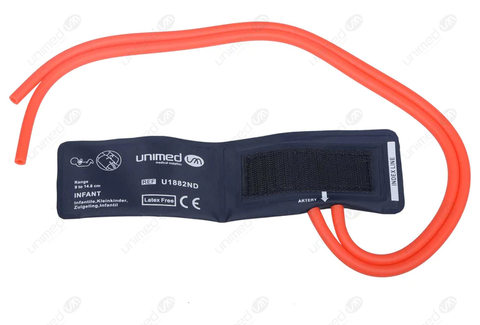 Accurate and Convenient Design
 Our NIBP cuffs are meticulously crafted with a soft TPU cuff and a nylon air bladder, ensuring precise and accurate blood pressure readings. The soft TPU cuff offers a comfortable fit around the arm, while the nylon air bladder guarantees reliable inflation and deflation for accurate measurements. For repeated inflations without compromising performance, we also offer bladderless cuffs made with durable TPU. These cuffs are suitable for long-term blood pressure monitoring, providing convenience for both patients and healthcare professionals.
Biocompatibility and Compatibility
 Patient safety is a top priority for Unimed, and we take several measures to ensure the safety of our NIBP cuffs. One important aspect is the rigorous biocompatibility testing that our cuffs undergo. These tests assess the cuff's compatibility with human tissues and fluids, ensuring that they meet the highest safety standards. As a result, healthcare professionals can confidently use Unimed NIBP cuffs on their patients, knowing that they have been thoroughly tested for biocompatibility.
Furthermore, Unimed NIBP cuffs are certified to be latex-free. Latex allergies can cause significant complications for patients, ranging from mild discomfort to severe allergic reactions. By using latex-free materials in our cuffs, we minimize the risk of allergic reactions, making them safe for a wide range of patients, including those with latex sensitivities or allergies.
Cost-effective and Easy to Use
Unimed NIBP cuffs offer a cost-effective solution for accurate blood pressure measurement. We understand the importance of efficiency in healthcare settings, which is why our cuffs are designed to be easy to clean and maintain. This not only saves valuable time for healthcare professionals but also contributes to a hygienic and safe environment for patients. Furthermore, the ergonomic design of our cuffs ensures user comfort, facilitating a smooth and convenient blood pressure monitoring experience.
Conclusion
Unimed NIBP cuffs are the accurate and convenient choice for healthcare professionals seeking reliable blood pressure measurement. With our accurate design, convenient features, and focus on patient safety, our cuffs provide peace of mind to both healthcare professionals and patients. The cost-effectiveness and user-friendly nature of our cuffs further enhance their value in healthcare settings. Choose Unimed for accurate and convenient blood pressure measurement solutions that meet your needs and exceed your expectations.