Unimed Medical's ECG Lead Wires: Accurate and Reliable Measurements for Improved Patient Care
In the healthcare industry, accurate and reliable measurements are critical in diagnosing and treating patients. With advancements in technology, medical professionals have access to new tools and resources that can improve patient outcomes. Unimed Medical is a leading manufacturer of high-quality medical cables that provide innovative solutions for healthcare providers. This blog post will discuss the features and benefits of Unimed Medical's ECG lead wires and how they can improve patient care.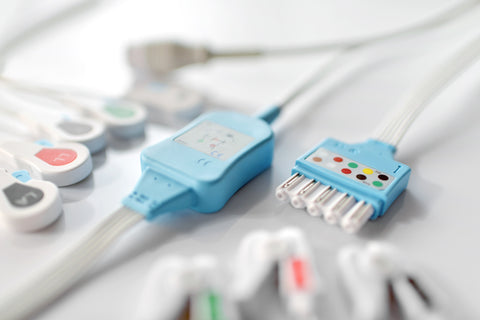 High-Quality Materials for Accurate Measurements
Unimed Medical uses only high-quality materials to manufacture its ECG lead wires. The wires are made of medical-grade materials, such as silver-plated copper, which ensures accurate signal transmission from the patient's heart to the ECG machine. The wires' insulation is also of medical-grade quality, ensuring superior durability and longevity.
Comfortable Design for Patient Convenience
Unimed Medical's ECG lead wires feature a comfortable design that helps reduce patient discomfort and anxiety. The wires are lightweight and flexible, making them easy to apply and comfortable to wear. The wires' soft, pliable material reduces skin irritation and prevents chafing, making tolerating more extended test periods easier for patients.
Large Selection of Electrode Options
Unimed Medical offers a vast selection of electrode options for its ECG lead wires, making it easier for healthcare providers to choose the right size and shape for their patients. The electrodes come in different sizes and shapes, including circular, rectangular, and butterfly-shaped. This variety allows healthcare providers to choose the best option for each patient, ensuring accurate ECG measurements.
Advanced Technology for Improved Signal Quality
Unimed Medical's ECG lead wires use advanced technology to improve signal quality and reduce interference. The wires are shielded to protect against electromagnetic interference, which can cause inaccurate readings. Additionally, the wires feature noise-reducing technology that helps to eliminate background interference, ensuring high-quality ECG measurements.
Easy to Use and Compatible with Most ECG Machines
Unimed Medical's ECG lead wires are easy to use and compatible with most ECG machines. The wires come pre-attached to the electrodes, reducing the risk of misplacement or incorrect attachment. Additionally, the wires' universal design makes them compatible with most ECG machines, ensuring ease of use for healthcare providers and seamless integration into existing systems.
Conclusion
In conclusion, Unimed Medical's ECG lead wires offer numerous benefits for healthcare providers and their patients. By using high-quality materials, comfortable designs, a large selection of electrode options, advanced technology, and easy compatibility with most ECG machines, Unimed Medical provides an effective and affordable solution for accurate and reliable ECG measurements. These benefits translate into improved patient care and diagnosis, ultimately leading to better patient outcomes.