Unimed Cables: Your Trusted Choice for Reliable Medical Connectivity
In the ever-evolving landscape of healthcare, the importance of reliable medical cables cannot be overstated. Among the leaders in this domain is Unimed, a brand synonymous with quality and compatibility. In this article, we will explore the diverse range of Unimed cables, with a specific focus on the Spo2 Interface Cables, and why we are the go-to choice for medical professionals worldwide.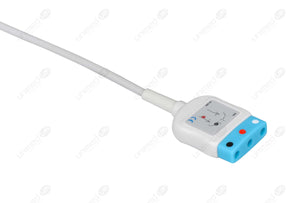 Unimed Cables: Your Gateway to Seamless Connectivity
Our company offers a comprehensive array of medical cables that cater to various healthcare needs. From ECG Cables to EKG Cables, and from SpO2 Interface Cables to IBP Adapter Cables, Unimed is a one-stop solution for medical connectivity requirements.
Spo2 Interface Cables: Precision and Compatibility
Our Spo2 Interface Cables are a standout product in the lineup. These cables play a pivotal role in connecting Spo2 sensors to patient monitors and pulse oximetry devices. Here's why Unimed's Spo2 Interface Cables are the top choice for medical professionals:
 1.Wide Compatibility:
Our Spo2 Interface Cables are designed to work seamlessly with a broad spectrum of patient monitors and pulse oximetry equipment. They are compatible with renowned brands such as Philips, GE, Ohmeda, Datascope, DETEX, Nihon Kohden, Nellcor, and more. This compatibility ensures that healthcare facilities can maintain consistency in their equipment, making Unimed the go-to brand for versatility.
 2.Stringent Certifications:
All Spo2 Interface Cables by Unimed are rigorously tested and certified. We hold both CE and FDA certifications, making us valid and reliable in different global markets. These certifications underscore Unimed's commitment to meeting international quality and safety standards.
 3.Quality Construction:
Unimed Spo2 Interface Cables are designed with precision and durability in mind. We come with a generous 7-foot length, ensuring flexibility and ease of use in healthcare settings. The gray color, 4.0 mm cable outer diameter, and thermoplastic polyurethane material contribute to their robust construction.Furthermore, they are latex-free, making them safe for a wide range of patients.
 5.Warranty Assurance:
We stands by the quality of our cables with a 12-month warranty. This warranty period provides peace of mind to healthcare professionals, knowing they are investing in a product backed by the brand's confidence.
Conclusion
In conclusion, Unimed Cables, including  Spo2 Interface Cables, are the epitome of reliability and compatibility in the world of medical connectivity. Whether you need ECG, EKG, SpO2, or IBP cables, Unimed is your trusted partner.
 When it comes to maintaining seamless patient monitoring and data transmission, Unimed Cables are the brand of choice for discerning healthcare professionals. Explore the complete range of Unimed cables and experience the difference in medical connectivity. For more information, visit our website and elevate your healthcare standards with Unimed.