For Your Medical Supply Package, the Best ECG Cables
Arrhythmias, myocardial infarctions, and heart attacks are frequently diagnosed via ECGs. The parts that hook into the system to record and analyze this data are generally ECG cables. Continue reading to learn more about ECG cables!
Overview of ECG Cables
An ECG cable is essential medical or nursing equipment used to gauge the heart's electrical activity. The connection connects to an ECG device, which records the heart's electrical activity.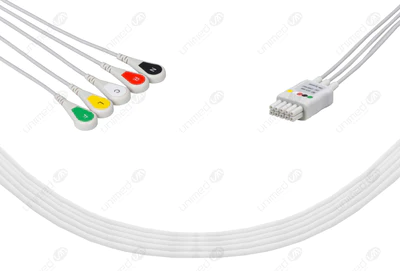 When selecting an ECG cable, bear the following in mind:
-The type of connector on the cable end is important: On most ECG cables, there are two types of connectors: male and female.
-The wire's quality is important: Cheap ECG cables frequently include flimsy wires that are easily broken, giving your cardiac machine erroneous readings.
-The cable's width and length are also important: To avoid having to worry about an ECG cable breaking or getting in the way during procedures, ensure you get one that exactly suits your needs.
Advantages of the Unimed ECG cable
Enhancing Patient Safety
The potential of Unimed Medical ECG wires to increase patient safety is one of their primary advantages. They aid in preventing potential medical blunders by safely and quickly sending data. This is particularly crucial in cardiology, where errors can negatively affect patients.
improved data quality
The good data quality of Unimed Medical ECG cables is an additional advantage. This indicates that data is frequently correct and trustworthy when exchanged between devices. When exact measurements are needed, this can be quite helpful. Additionally, it makes it simple for healthcare workers to communicate and collaborate on projects thanks to precise data.
Communication Between Medical Personnel Is Made Simpler
Finally, the simplicity of connection offered by Unimed Medical ECG cables is one of their key advantages. They make it possible for healthcare workers to collaborate more effectively than before. This contributes to better patient care and generally saves time and resources. Therefore, because of their secure communication technology, clinicians can be confident that any sensitive information will always be kept safe and confidential.