Achieving Quality Patient Care with Reliable Unimed ECG Cables
ECG cables are essential for effective patient monitoring in the realm of medical devices. Unimed, a reputable brand in the industry, is proud to offer a wide range of ECG cables, leads, and accessories that set the standard for quality and reliability. In this article, we'll explain how ECG cables can enhance the patient monitoring experience and that choosing unimed is crucial.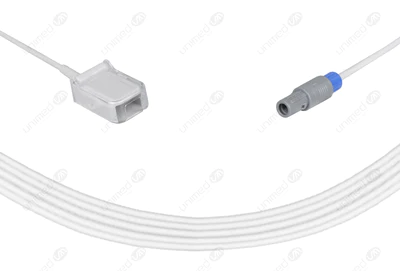 Unimed ECG Cables: Quality Assured
Our ECG cables and accessories are designed with precision and manufactured using medical-grade materials that meet the highest standards. When it comes to patient monitoring, quality assurance is paramount, and Unimed products deliver just that.
Certifications and Compliance
We takes pride in the fact that all its ECG cables and accessories are CE and FDA certified, ensuring they adhere to rigorous safety and performance standards. Additionally, they meet the ANSI/AAMI EC53 requirements, further confirming their reliability and accuracy.
Unparalleled Compatibility
One of the standout features of our ECG cables is their broad compatibility with most patient monitor brands available on the market. Whether you use Philips, GE, Masimo, or any other reputable brand,Our ECG cables can seamlessly integrate with your equipment. This compatibility extends to the point where they can be used interchangeably with original equipment, providing you with flexibility and convenience.
AHA and IEC Color Codes Make Us More Reliable
At Unimed, we understand the importance of clear and consistent color coding in patient monitoring. That's why our ECG cables adhere to both AHA (American Heart Association) and IEC (International Electrotechnical Commission) color codes, ensuring that healthcare professionals can easily interpret and work with the data.
Unimed ECG Cables: A Comprehensive Range
Unimed offers a comprehensive range of ECG cables and accessories to meet the specific needs of healthcare providers: 
Patient ECG Monitoring Cables: These cables are designed for accurate and continuous monitoring of patients' ECG signals. They are available in various lengths to accommodate different clinical settings.
ECG Leads: Unimed provides high-quality ECG leads that ensure accurate signal transmission and patient comfort. Their durability and precision make them an excellent choice for healthcare facilities.
Accessories: Unimed also offers a variety of ECG accessories, such as electrode adapters and cable management solutions, to enhance the functionality and convenience of your ECG monitoring setup.
Conclusion
In conclusion, Unimed ECG cables and accessories are are vital tools in delivering quality patient care. Our quality assurance, certifications, compatibility, and adherence to color coding standards make them a trusted choice for healthcare providers worldwide.Experience seamless patient care like no other by making reliable, high-quality, globally-recognized ECG cables your dependable partner. Be confident that we will provide you with exceptional patient monitoring services.